Advice for sellers
Your home is often your greatest asset, so it makes sense to do your research on home values and professional representation before selling.
Preparing to Sell Your Home
Preparing to sell your home entails making your home appear "move in ready" in order to attract the greatest numbers of potential buyers. This is a critical element in your selling preparation. Creating curb appeal is no small feat but greatly worth it in the long run. To get started, follow the tips below.
Inside your home, begin by removing personal effects such as photos and memorabilia.
While these are the items that make your home yours, your goal is to create an environment that a potential buyer can envision as their own.
Clean everything inside and outside of your home and develop a plan to keep your house attractive during the sales process. To help present the cleanest and brightest home, open the curtains and turn on the lights during open houses and when real estate agents are conducting showings.
Consider enhancing rooms with a fresh coat of paint and be sure to repair items that need attention. While major remodels may not be necessary, broken items should be repaired. Outside, consistently maintain a mowed lawn and consider planting seasonal flowers. Also, trim hedges, trees and bushes.
For more complete information on how to prepare your house for sale, consult with your Atkinson Realty agent.
Pricing Your Home to Sell
Pricing your home to sell can be a challenge for homeowners. Your home may be clean, painted and in good shape, but if you list it for the wrong price, you won't get far When you're selling a house, the price you set is a critical factor in the return you'll receive. The experts at Atkinson Realty have the experience to adequately evaluate the condition of your home and how it compares to other sold homes in the marketplace. In real estate terms, market value is the price at which a particular house, in its current condition, will sell within the average selling time in the market.
If the price of your home is too high, here are the possible results:
Low Final Sales Price – An overpriced home, still on the market beyond the average selling time, usually leads to a lower selling price. To sell it, you will have to reduce the price, sometimes several times. In the end, you'll likely get less than if it had been properly priced at the start.
Limited Buyers – Potential buyers may not view your home, because it would be out of their buying range.
Limited Showings – Real estate agents may be reluctant to view your home or bring their clients.
Extended Stay on the Market – When a home is on the market too long, it may be perceived as defective. Buyers may wonder, "what's wrong", or "why hasn't this sold?"
Wasted Time and Energy – For example, a buyer who gets a bank appraisal on an overpriced home will quickly determine that they've wasted their time because the appraisal will not support the inflated sales price.
Well-kept homes, properly priced in the beginning, always get you the fastest sale for the best price. Want to know what your house is worth? We will be delighted to assist you in pricing your house to sell. Get in touch with us today!
Shopping for That Perfect Home
Working with your Atkinson Realty agent, your home search becomes more guided and dynamic. Our agents save you time by focusing your search on the homes that fit your lifestyle and your budget. Along with comparative statistics, they will take the time to preview homes and research open houses, so you have the big picture. With their real estate knowledge of the local neighborhoods, they can share insight into the home buying process, negotiating, getting to the closing table and even moving day itself.
Moving Checklist Guide
Preparing to move is both an exciting and stressfull event and it is easy to feel overwhelmed. Use this helpful timeline to guide you through the move to your new home, without forgetting any details.
Making a Purchase Offer
Sort and purge. Go through every room of your house and decide what you'd like to keep and what you can get rid of. Donate items to your favorite charity or plan a moving sale. Contact Moving Companies. Request quotes from several moving companies. Ask them to come out to your home for an on-site estimate so there are no last minute added fees. Does there quote include boxes and supplies? If not, make a note to order boxes, bubble wrap, and tape. Once you have selected a moving company, get written confirmation of your moving date, costs, and other details.
Create a moving binder. Use this binder to keep track of everything—all your estimates, your receipts, and an inventory of all the items you're moving.
Organize school records. Go to your child's school and arrange for their records to be transferred to their new school district
Take measurements. Check room dimensions at your new home, if possible, and make sure larger pieces of furniture will fit through the door
Begin packing. Start packing the things that you don't use very often, like the waffle iron and croquet set.
Label. Clearly label and number each box with its contents and the room it's destined for. This will help you to keep an inventory of your belongings. Place a special mark on boxes of items you'll need right away.
Separate valuables. Add items such as jewelry and important files to a safe box that you'll personally transport to your new home. Make sure to put the mover's estimate in this box. You'll need it for reference on moving day.
File a change of address. Go to your local post office and fill out a change-of-address form, or do it online at usps.gov. In case there are stragglers, it's always wise to ask a close neighbor to look out for mail after you've moved. Check in with him or her two weeks after the move, and again two weeks after that.
Notify important parties. Alert the following of your move: banks, brokerage firms, your employer's human resources department, magazine and newspapers you subscribe to, and credit card, insurance, and utility companies.
Tune up. Take your car to a garage, and ask the mechanic to consider what services might be needed if you're moving to a new climate.
Refill prescriptions. Stock up on prescriptions you'll need during the next couple of weeks.
Pack your suitcases. Aim to finish your general packing a few days before your moving date. Then pack suitcases for everyone in the family with enough clothes to wear for a few days.
I want to sell & upsize into a bigger home!
If you're seriously considering upsizing, it's important that you're well informed as to what the process involves. In this guide we dive into a few important things to consider before deciding to upsize into a new home.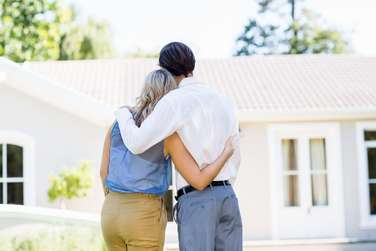 Upsize Into A New Home
The Definitive Guide On How To Upsize Into A New Home
Comprehensive Real Estate
Seller's Guide